Commercial Freight Elevators
PFlow Hydraulic Vertical Lifts – D Series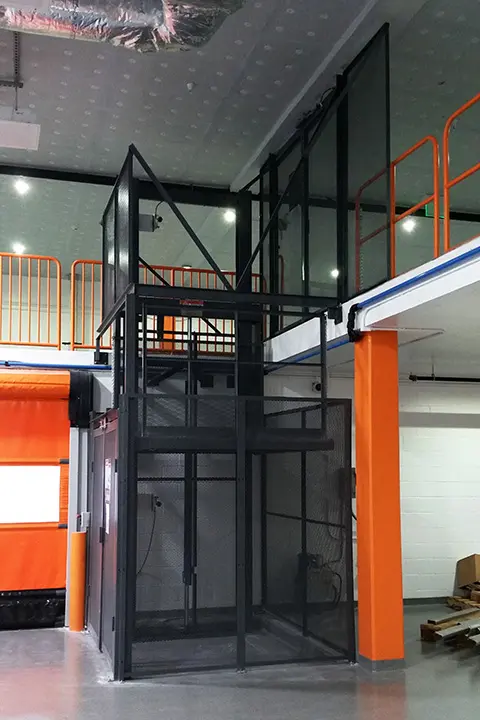 LOW MAINTENANCE LIFT IDEAL FOR MEZZANINE AND BALCONY APPLICATIONS.
Specifications:
Remote mounted control panel and motor are pre-wired and ready for immediate installation.
Cantilever carriage is lifted and lowered by dual 2" direct-acting hydraulic cylinders mounted between 6" guide columns.
Guided Dual-Pak design is direct action and has no cables, chains, sheaves, sprockets, bearings or other components that can break or require lubrication for long-term performance.
Pressure switch prevents the carriage from drifting or sinking providing a highly stable loading and unloading operation.
Velocity fuses prevent uncontrolled descent in the event of an unlikely hose rupture.
Check valves hold the carriage in place in the event of power loss.
Pressure compensated control valve regulates the flow of hydraulic oil for a constant lowering speed under any load.
Ultra-high molecular weight, polyethylene cylinder guide prevents cylinders from twisting during operation – improving cylinder life.
Optional quick-connect cabling for push-button stations and gate interlocks greatly reduce the field-wiring costs.
Optional hot-dipped galvanized or epoxy finish for outdoor or wash-down environments.
Optional explosion proof components available for classified environments.
Conforms to ASME B20.1 Safety Standards
Lifts loads up to 3,000 lbs
Carriage sizes up to 6' x 6'
Standard vertical rise to 15'
Standard travel speed is 17 FPM
Indoor or outdoor use
Lifetime structural warranty
We Have Hundreds of Products to Meet your Needs! Inquire Below!